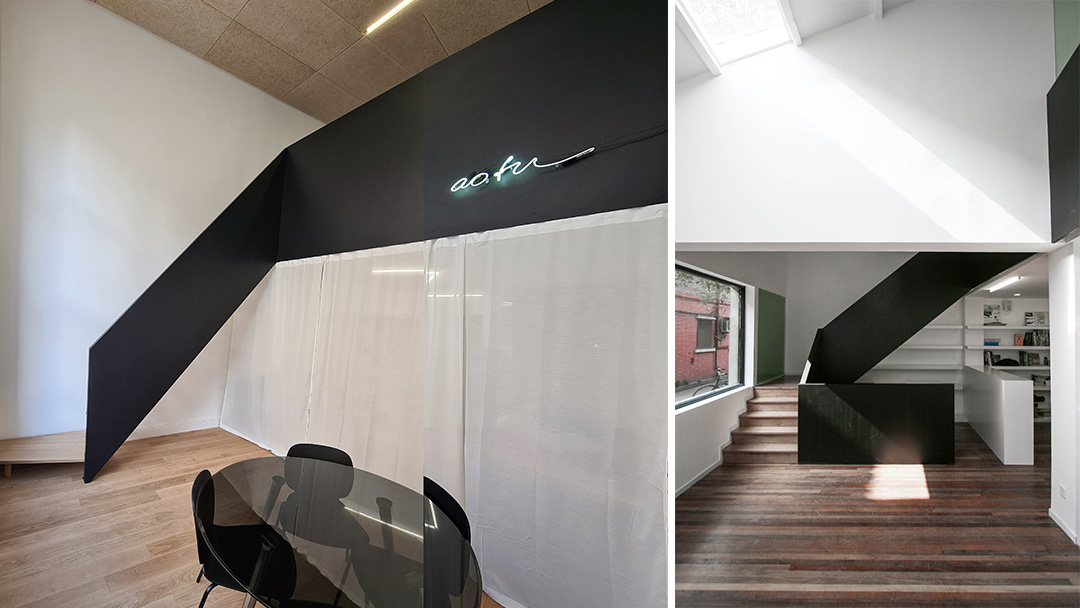 An architectural practice on a human scale for large-scale projects
Based in Lyon and Shanghai, Aotu is an architecture studio specialising in innovative design and eco-responsible architecture. Our unique methodology approaches architecture as a mathematical equation, aiming to solve as many problems as possible, whether social, environmental, economic or functional. The result of this approach is architectural creations that stand out for their sobriety and modernity. Whatever the project, our aim as architects is to establish strong concepts that result in high-quality, ambitious architecture.
Our expertise
Whether your project is large or small, the Aotu Architecture team is committed to offering a unique approach, with an equivalent level of investment and attention. Made up of talented architects and designers based in Lyon, France and Shanghai, China, our team excels at delivering major projects such as corporate offices, logistics centres, industrial sites, laboratories, silo car parks and much more.
Alongside our expertise in large-scale projects, we also devote some of our activity to smaller-scale architectural projects. As architects, interior architects and space designers, we are able to take on new build, extension, renovation and refurbishment projects for individual homes – villas, houses or flats – and offices, right through to the design of bespoke furniture.
An architectural practice on a human scale
Our human-scale structure allows us to eliminate superfluous hierarchical levels, thereby reducing costs and simplifying teamwork. Our strength lies in the development of a design process that is enriched by everyone's thoughts, where the architect understands your needs, your way of working and living, and your organisation accurately and precisely. This is why we are able to scrupulously respect budgets, deadlines and the environment, in the service of people and their uses.
Hugues and his team of experienced architects demonstrate rigour, professionalism and creativity, offering Aotu clients the assurance of high-quality projects that not only meet their functional and aesthetic needs, but also reflect their values and cultures.
Trust Aotu Architecture for all your architectural, interior design and urban planning needs. Contact us to discuss your project and find out how we can help you make it a reality..
Sustainable development
When we talk about the environment, we're referring to taking account of the existing environment, ensuring that our work fits harmoniously into its context. We also attach great importance to sustainable development, optimising the energy performance of façades, favouring lightweight materials and maximising the use of natural light and renewable energy.
Since our inception, Aotu has been committed to delivering bespoke, sustainable and cutting-edge architecture, urban planning and interior design projects within budget and time constraints. We architects work closely with our clients, listening to their ideas and combining them with our expertise to create exceptional designs that meet their requirements and tastes.
Our history
Discover Aotu Architecture, an agency born of the passion, determination and expertise of its founder, architect Hugues Leclercq. With an international background and a fascination for cosmopolitan cities, mobility and urban density, Hugues opened his architecture studio in 2006 in Shanghai, one of Asia's most dynamic megacities.
After ten years of success in Asia, Aotu, supported by a team of talented architects, opened its first office in France, in Lyon. With two decades of experience in architecture, the agency has completed large-scale, customised and innovative projects for international clients such as Renault, GSE, Ledger, Xenocs and Disney.
Find out more about our offices in Lyon and Shanghai.
Origin of the name
The search for the agency's name and logo was based on a three-pronged approach: graphics, meaning and pronunciation, in French, Chinese and English.
In English, the letters "aotu" stand for "architecture office technic & urban-planning".
In Chinese, the characters 凹 (ao) and 凸 (tu) literally translate as "convex" and "concave". They also represent the concept of fullness and emptiness. Philosophically, this symbolises the work of the full to generate the empty, space, which reflects the nature of our profession as architects.
Our logo is designed to be readable in French, English and Chinese. It embodies the very essence of our profession as architects: construction and assembly, symbolised by the image of "two profiles clipped together".
The logo is designed in the form of a horizontal golden rectangle, made up of the two Chinese characters 凹 (ao) and 凸 (tu), which are among the simplest Chinese characters from a graphic point of view. These symbols reflect our architectural practice's vision of pure, simplified and expressive architecture, characterised by clear spaces, geometries and construction systems.
A unique solution for every project
Whether you're a professional or an individual, we'll work with you to ensure that your building is your company's signature or that your home reflects your image. We'll meet your immediate needs and future requirements with a unique piece of architecture, delivered on time and on budget.
---
Architecture
Our architectural practice specialises in the design and construction of tertiary, industrial and logistics buildings, laboratories, warehouses, workshops and silo car parks. Our expertise also extends to shopping centres, public facilities, houses and flats, offering a varied approach to architecture that can be adapted to any type of programme.
Find out more about our latest architectural projects :
Interior Architecture
The Aotu Architecture team is made up of architects, interior architects and space designers who are experts in supporting projects on all scales. From interior design to the creation of made-to-measure furniture, our team offers a complete approach.
Discover our latest interior architecture projects in the tertiary sector, offices, laboratories, warehouses, houses and flats:
Urban planning
Our expertise acquired in China on large-scale projects has enabled us to develop our own know-how, methodology and efficiency.
Find out more about our urban development projects :