The central patio is one of the most important space in the office design part. it connects all the floors together as a DISTRIBUTION CORE :on the ground floor, the lobby and its exhibition area will be linked with the 2nd Floor collaborative area and other amenities (canteen, customer experience and training rooms)

Moreover, the central patio will create a feeling of space and provide the office area with the maximum of natural light. (A sky window could be installed on the roof to provide more light: optional)

Conceptually, the stair is a ribbon in motion reflecting the dynamism of Owens Corning.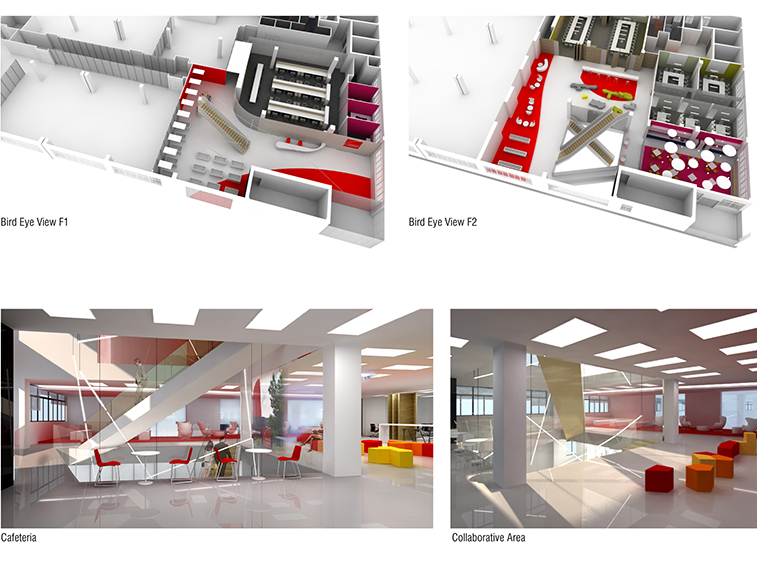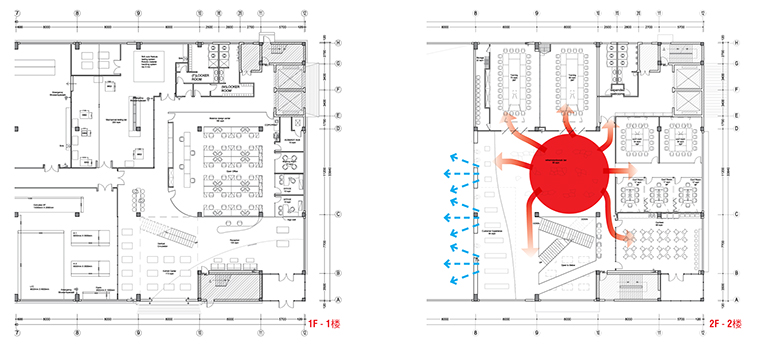 From the ground floor, the visitors will enter through the reception area that is adjacent to an exhibition hall that is open toward the TP lab (large fire proof glass wall).From this space, it is also possible to have a look inside the newly created 'Material Design Center.
The OC staff can access to the office part and to the lab directly from the exhibition area.
The circulation, shapes of the glass and materials on the ground were directly inspired by the 'arc' of the OC logo. The red color, is also a reference to OC corporate identity color and will help us design warm, friendly and dynamic working environment.
On the 2nd floor, the 2 most important functions are the Customer Experience and the Collaborative area.
The Customer Experience is directly accessible from the 1st floor and will be open toward the TS and TP labs.
The collaboration area act as a gathering point between the different programs: meeting rooms, training, customer experience, canteen…
It is a large space, freely arranged in order to act as a MULTIPURPOSE ROOM. From a lounge and warm atmosphere, it can turn into a reception area, and projection room for gathering, parties or client presentation.