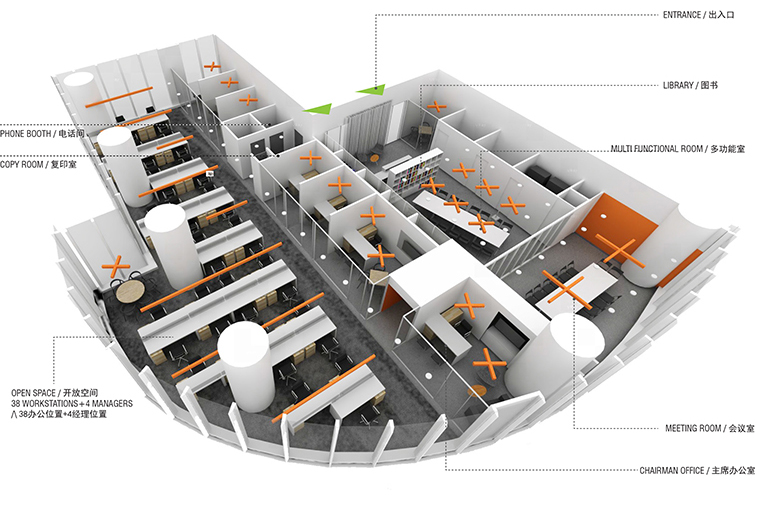 THE STRIPES CONCEPT

Our proposal for APCO worldwide Shanghai new Office, is to organize the space into different stripes, each of them fulfilling a different function.
The most important space, in the axis of the main entrance of the office facing the Taicang road, is a large 6m x 17m (110m2) rectangular in shape multi-functional room. This space, the center of our concept strategy for the APCO office, proposes different configurations in order to accommodate various kind of meeting, events or gathering. Please refer to the drawings page 17-18 to observe the different options.
On the left side of the Mullti-functional room are located 4 service rooms: IT room, storage room, Mother room and, next to the entrance, a small room for interview or short meetings.
On the right side, shelves, kitchen counter and other storage elements are concealed behind polycarbonate sliding door. We believe this way to organize the space not only provide a very interesting background to the multi-purpose room and also allow us to save a lot of space in terms of circulation, besides it is very functional.
On the right wing of the office, the working area is very clearly organized into 3 parts. A very comfortable 1.60m large hallway distributes 7 private offices (including 2 large manager office and a copy/storage area) on the left side and a very bright and open toward the outside open space that includes 42 working station (including 4 manager desk) and a 6 people meeting table.
We believe this layout optimized each square meter of the office and goes beyond the client requirements
by offering more space and functionality.